Get Your Politics Out of My Pickleball
Fault lines emerge as government gets involved in America's weirdest, fastest-growing sport.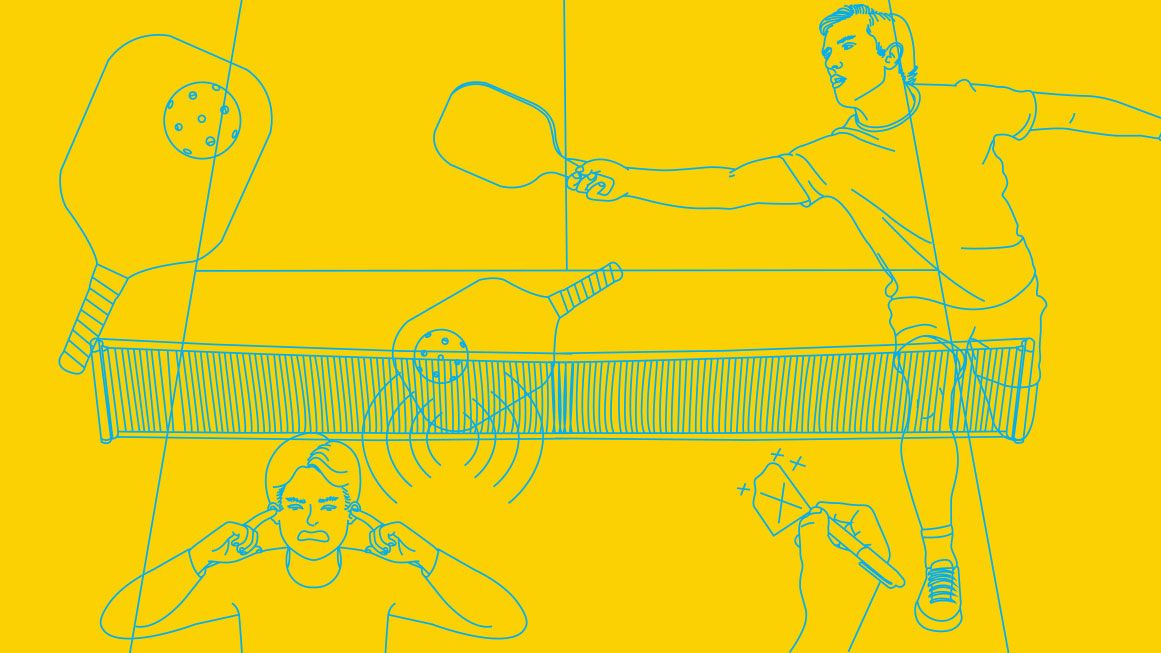 (Illustration: zronne/Fiverr)
Anaba Wines is set on 16 acres of beautiful Sonoma land, just north of the Golden Gate Bridge. It offers "premium Rhône-style blends" and wood-fired pizza; a bottle of their 2018 WestLands Pinot Noir costs $74. It also has a pickleball court. People in high-fashion athleisure refine their serves, returns, and dinks in pickleball lessons led by a certified instructor as golden hour settles over the Sonoma Valley. Later, a wine educator leads them through a wine tasting paired with an artisanal cheese board.
The scene looks a little different where David Litman learned to play pickleball: the rec yard of a federal prison in Lexington, Kentucky. Both Anaba Wines and the Federal Medical Center in Lexington are mentioned in the January/February 2023 issue of Pickleball Magazine, which says of Litman that the sport "enabled him to avoid conflict with fellow inmates—as long as he would continue to excel on the court, win his matches and cover the bets that were a daily ritual." It helped him pass the eight months of time he served. The court can be seen on satellite images available on Google Maps, not too far from the prison's fences.
Pickleball is everywhere, and yet not everywhere enough. It started as a sport popular with the retirement crowd, but now has just as many fans among the young. Pickleballers can be found in swanky wineries and federal lockups. It started on backyard courts and neighborhood streets, but now faces overwhelming demand in public parks.
The sport has grown large enough to have its own economy. Shoemakers, like Acacia Sports, make specialized pickleball shoes, designed to aid in the game's quick and frequent side-to-side movements. Podcasts like PicklePod (hosted by Zane Navratil, a pro player, and Thomas Shields, founder of a pickleball media company) cover news from the world of competitive pickleball. Magazines and other media forms recommend the best paddles, balls, bags, glasses, and ball machines for training.
There are professional pickleball influencers, like "Pickleball Barbie" Sydney Steinaker, who posts pickleball outfits, workouts, and sponsored paddle unboxing videos. The sport even has a celebrity couple: Steinaker and her boyfriend, Collin Johns, one of the top professionals. There are pickleball lifestyle brands like Recess Pickleball, founded by two friends who wanted "paddles that looked as fun and approachable as pickleball itself." There are countless local clubs and leagues, and successful players can make extra money teaching private lessons. If players get tired of playing at their public parks or local schools, they can travel to pickleball camps in Key West and Scottsdale, get a full pickleball vacation package at Club Med, and play pickleball at sea on cruise ships.
Professional pickleball players might not be household names, but their employers are. Among the part owners of Major League Pickleball (MLP) teams are Dierks Bentley, Tom Brady, Mark Cuban, LeBron James, Heidi Klum, and Patrick Mahomes. Anheuser-Busch is the sole owner of another team. "The celebrities is the sizzle," MLP founder (and Reason supporter) Steve Kuhn says, "but the steak is, we have a lot of owners who are financially successful, who own teams of various sports leagues. We have people who are amazing businesspeople, and it's a mission." Those celebrities may not be engaged in pickleball daily while their primary careers are in crunch times, but their business teams and partner owners are, and they all see pickleball as a good investment. Another major league, the Association of Pickleball Players, has sponsorships from Discount Tire, Skechers, and, naturally, Vlasic Pickles.
Pickleball's infiltration of the country is either complete or just getting started. No longer a niche sport with a funny name, it is now a semi-mainstream sport with a funny name. With that growth comes the inevitable: unwanted attention from government.
0–0–Start
Pickleball was invented and refined in 1965 on Bainbridge Island, Washington, all thanks to an age-old whine: "I'm bored." According to some accounts, Joel Pritchard told his son Frank to make up a new sport with his friends. They ran off to the paved badminton court to hit a ball back and forth with whatever kind of paddle or racket they could find. Some of the details are a bit hazy from there, but the families who were vacationing together were hooked. Within days, Joel and his friends Bill Bell and Barney McCallum started to refine the game.
The net was lowered from badminton's 5 feet down to just a few feet, so players could hit the ball harder. Plywood was used to make something like an oversized pingpong paddle. Various balls were tried, with the initial selection of a curvy Wiffle ball swapped out for the straighter-flying Cosom Fun Ball. Then came the kitchen line: not a buffet, but a line demarcating a zone next to the net that players can't step into unless the ball bounces there first. (The term kitchen line came much later and has unknown origins.)
There were other minor changes along the way, but the essential ingredients were in place. The court, less than half the size of a tennis court, limits the need to run and ensures easy socialization between opponents. The kitchen line and holey ball make spikes more difficult and partially neutralize taller or stronger players. The price of high-quality equipment can reach triple digits, but a starter set with two wooden paddles and balls is under $40. A newcomer may be initially confused, but it doesn't take long to understand the rules, the reasons behind them, and the strategies they enable. After all, the point is simple: When the ball comes at you, hit it back.
The unforgettable name has certainly helped the sport's growth. Despite popular belief, the game wasn't named after a dog named Pickles. (It was vice versa.) The agglomeration of rules and equipment from other sports inspired Joel Pritchard's wife Joan to name the sport after the "pickle boat" in crew, where all the leftover rowers get thrown in after top rowers are selected for the primary boats.
Pickleball is a great example of how a new sport can spontaneously emerge. No central planner would have invented it or predicted its popularity. Its customs and etiquette are unique, even among other racket sports. McCallum is quoted in the book History of Pickleball: "It was just the players alone, or anybody within earshot [who made the rules decisions]—no election or no favorite person."
Even so, the specter of government lurked over pickleball from the beginning. When he was refining pickleball on Bainbridge Island, Joel Pritchard was a Republican member of the state House of Representatives. He later served in the state Senate, went to the U.S. House of Representatives for 12 years, and became lieutenant governor. Today, his legacy as the literal and figurative father of pickleball has long since eclipsed his largely unremarkable political career.
How To Grow a Pickle
By 1968, the game had spread enough in Seattle's suburbs and neighborhoods that its founders thought a business might be profitable and grow the sport. As Jennifer Lucore and Beverly Youngren wrote in History of Pickleball: "Until the mid-'70s, there was no concerted effort to market the game, and so pickleball grew more organically…through word of mouth into new neighborhoods and culs-de-sac." People set up temporary courts on neighborhood streets and were building backyard courts on the other side of the country, but in Washington state pickleball "found a home in various high schools and colleges as part of the physical education electives." Soon Seattle Parks and Recreation was offering pickleball programs. Formal government involvement in pickleball was underway.
In the '80s, Pickle-Ball Inc. started going to national trade shows to market the game to middle and high school gym teachers. Pickleball courts were being set up on tennis courts, and eventually, dedicated pickleball courts (not just tennis courts with pickleball lines on them) started sprouting up in public parks.
The most important ingredient in its growth was not the government but the weather. In the winter months, snowbird retirees retreating from colder climates took the game to Arizona and Florida, where they introduced it to other retirees with time on their hands and a need for light physical activity. They, in turn, took the game back to their hometowns in the spring. This is how pickleball got its reputation as a game for the aged.
But times have changed.
I'm in my 30s. I first heard of pickleball a couple years ago, when someone mentioned that my uncle tried it out in Florida and played it every day for the rest of the vacation. Soon my parents were introducing it to me, my wife, and my brothers. A year later my wife and I started joining weekly leagues, and only once or twice have we encountered opponents who weren't in their 20s or 30s.
In 2021, 28.8 percent of pickleball players were 18–34 years old, just slightly less than the 29.6 percent who were 55 or older. Almost 9 million people played pickleball in 2022, according to the Sports and Fitness Industry Association, about 2.5 million more than those who played pickleball's quasi-predecessor, badminton. Pickleball has been the fastest-growing sport in the country for three years in a row.
Tennis is still the king of racket sports, with household names and major news coverage of its four major two-week-long tournaments. It's still king on the recreational level too, with 23.6 million players and growing. But the king is growing leery of the noisy neighbors trying to convert his court.
By one count in 2003, there were 39 known places to play pickleball in public, with a combined 150 courts. By 2018 that had grown to almost 7,000 locations, with a combined 21,000 courts. As of January 2023, USA Pickleball's database listed almost 11,000 locations with 44,000 courts.
Some of those courts belong to private clubs, gyms, or neighborhoods, but many of them are in public parks, converted from tennis courts. Whenever governments get involved in subsidizing, regulating, and even policing something, conflict is sure to follow—and pickleball is no exception.
Opponents Go to Court
Arslan Guney is, hopefully, the only person who's ever done jail time for a pickleball-related crime. All he did was use a Sharpie.
In March 2022, Guney had a misunderstanding at Denver's Central Park Recreation Center. An avid player (and, amusingly, a former employee of Vlasic Pickles), the 72-year-old Guney earned the nickname "mayor of pickleball." He was well known by the center's staff. The center's multipurpose court had permanent lines for basketball and volleyball courts, but all pickleball players got were less-than-ideal temporary line markers. During a meeting with Denver Parks & Recreation, some staffers asked Guney to make a diagram showing where exactly they could quickly set up the center's temporary pickleball court. Guney went to the court to plan his diagram, noticed some "x" marks for pickleball were fading, borrowed a marker from staff, and refreshed the marks. Each mark was only a couple of inches wide.
The reprimand was swift. The next day, Guney got an email saying he was banned from Denver Parks & Recreation facilities and programs. Soon after that, the Denver Police Department notified him of a criminal complaint for felony criminal mischief and an arrest warrant. A fellow player representing Guney pro bono tried to sort things out, but the parks department pushed for Guney's arrest.
He turned himself in and spent 10 hours in jail before getting a hearing that allowed him to be released. His jail time would have been longer were it not for the pro bono legal help.
It took more than a month of legal limbo, but the city eventually relented and gave up on criminal charges. Guney still had to pay $4,672.29—the city claims this was half the cost of removing the markings. He easily crowdfunded this from fellow pickleball enthusiasts, and his ban was lifted.
It was an extreme example of the fights many pickleball players across the country have fought with the government (and with tennis players, and with neighbors) over public space. It was just the beginning of the fights in Denver.
The most common complaint against pickleball seems to pop up when public parks add pickleball lines to tennis courts near homes. Players might not notice it at first, but the sound of a plastic pickleball hitting a plastic or wooden paddle, multiplied by multiple courts in a small area for hours, can get annoying. "It has taken my true joy of living on the park away as now the noise and continuous congestion has become a true nuisance to my family and me," one Denver resident told 9NEWS. Scottsdale, Arizona, resident Debbie Nagle claimed to a Phoenix CBS affiliate that the noise coming from her neighborhood's court is "painful. It has completely changed my life."
Pickleball noise measures about 70 decibels 100 feet away from the court, according to Bob Unetich, who founded the consulting firm Pickleball Sound Mitigation. At 200 feet away, the sound is down to 64 decibels (slightly louder than a typical conversation). Tennis is much quieter, since it involves felt-covered rubber balls hitting stringed rackets (though some players are notorious for noisy grunts). A normal residential area on a calm day averages roughly 40 decibels of noise. In Denver, most residential noise limits are set at 55 decibels from 7 a.m. to 10 p.m.
On March 30, 2023, Denver Parks & Recreation Deputy Executive Director Scott Gilmore announced a sudden, major shift in the city's pickleball expansion plans. Four courts at Congress Park that were planned to close in two weeks were shuttered immediately—allegedly because the noise levels were dangerous. (Most expert recommendations say noise levels up to 75–90 decibels are safe for up to 8 hours). Hollynd Hoskins, an avid player and the lawyer who helped Guney, agrees the location was less than ideal: "No dispute, probably were too close to the homes," she says. But Gilmore went further and canceled plans to spend $2.6 million on eight pickleball courts with sound barriers at a new location in Congress Park that would have been 600 feet away from the nearest homes.
Even before more sound mitigation measures, pickleball activity at the courts is projected to reach nearby homes at about 55 decibels. Further, a roughly $4.5 million project to build four pickleball courts at Sloan's Lake Park, where construction had been underway for a year, was also canceled. Because Gilmore felt these changes were necessary to protect health and safety, he did not have to provide prior notice or allow for public comment before making the decision.
Gilmore wanted to establish a standard rule where pickleball courts couldn't be built within 500 feet of homes, but the Denver Department of Public Health & Environment (DDPHE), which is responsible for considering noise violations, refused to play ball with him. According to an email acquired by Hoskins, DDPHE director Danica Lee told Gilmore that "the characteristics of each site (trees, topography, surrounding buildings, etc)" must be accounted for, and "we cannot rely upon a single number for all sites." Hoskins filed an appeal with Denver Parks & Recreation, calling Gilmore's decisions "arbitrary and capricious" and alleging a conflict of interest between Gilmore, his wife on the City Council, and his brother—whose construction company frequently receives city and parks department contracts. The appeal is still ongoing.
Battles like this are playing out across the country in homeowners associations and local governments. Some people are suing homeowners associations that have put pickleball courts close to their homes, though without much success. "I haven't seen anyone win one yet and I would be surprised if they did," attorney Robert Ducharme told the Phoenix CBS affiliate. "Courts have routinely said that as long as they're not doing anything blatantly illegal, … [HOAs] can do anything they want."
Six residents in Falmouth, Massachusetts, took their town's zoning board of appeals to court over pickleball noise from a group of five courts, alleging that the sound violates the town's bylaws against "injurious and obnoxious noise levels." The town denied a request to stop pickleball at the site, but the residents got a temporary court injunction stopping play while the lawsuit is resolved. A court date is scheduled for January 2024.
In Arlington, Virginia, the threat of lawsuits was enough to spur changes before reaching the courtroom. At one park, the county initially closed a stand-alone court while restriping other courts for pickleball that were further away from homes. But plans to reopen the stand-alone court, even with shorter hours and a noise-mitigating fence, prompted a legal threat from the neighborhood group Old Glebe Civic Association (OGCA). "We hope that a new compromise can be reached before affected parties turn to law courts for resolution of the issue, as has happened repeatedly in other cities throughout the country," the association said in a 2022 newsletter. Months later, the county relented and said it would convert the stand-alone court to other uses and install sound insulation around the tennis/pickleball courts. "The OGCA is pleased that a reasonable solution to the pickleball noise problem at Glebe Park has been adopted by the County," the group said in its April 2023 newsletter.
Across town, members of the Columbia Heights Civic Association began mulling a lawsuit of their own. Thanks to a group of nine courts at Walter Reed Community Center, one resident said, there are days they've heard pickleball noise from 5 a.m. to 11 p.m. "It's just excessive," the resident told ARLnow.com. "It's loud and it's very intrusive." (It's not clear if pickleball actually breaks the county's noise ordinances—the maximum daytime noise levels range from 60–70 decibels for continuous noise to 95–120 decibels for impulsive noise.) Despite the controversy, the county plans to spend up to $2 million on repairs and dedicated pickleball facilities at the location.
Dinking With Dollars
Arlington is just one of many local governments weighing million-dollar pickleball projects. On top of Arlington and Denver's multimillion-dollar projects, Evansville, Indiana, is planning a $1.5 million project for 24 pickleball courts, though opponents have complained the project will "eliminate green spaces and trees," according to the Evansville Courier & Press. Southlake, Texas, with a population of just 31,000, is spending $3.4 million on what the mayor calls "the Taj Mahal of pickleball," with eight courts.
Wichita, Kansas, approved a plan for 24 pickleball courts that will cost $6.15 million (double the initial estimate of $3 million). A local reporter for The Wichita Eagle called it "a spending proposal that is so blindingly preposterous that it leaves you wondering how anyone could seriously propose it." A second phase will add indoor courts and even more taxpayer money.
Las Vegas, a city that hates to be outdone, accepted a whopping $12 million federal grant to build 30 pickleball courts. The city said the funds came through the Bureau of Land Management and the Southern Nevada Public Lands Management Act.
One common source for pickleball's taxpayer slush fund: COVID-19 "relief" money from the American Rescue Plan, passed by Democrats in 2021. Leawood, Kansas, proposed using $750,000 of COVID money on 10 pickleball courts, with the city covering the remaining $135,000. Lubbock, Texas, plans to use $1.5 million of COVID money on eight to 10 outdoor courts, with an additional $300,000 spent by the city. A local group hopes to fundraise enough money to build indoor courts at the complex as well, because apparently federal guidelines prohibit using the money on indoor facilities (but not on pickleball courts). Advocates hope the completed complex will make Lubbock a prime destination for tournaments and tourists.
Lubbock will have to compete with the pickleball powerhouse of Kennewick, Washington. A 3.5-hour drive from Seattle and Portland, Oregon, the city hopes building 15 courts using $800,000 of COVID money and $250,000 of park funds, plus some private funding, will bring in top pickleball tournaments.
At least one city government has decided it's too cash-strapped to fund more pickleball courts. This year, Santa Monica, California, said, "no City funds are currently available to construct new pickleball courts," according to the Santa Monica Lookout. The paper says a proposed project for at least 15 courts would have cost $5 million, but the city has almost $500 million in unfunded pension liabilities and recently settled sexual abuse cases against an employee for $123 million.
If anyone is feeling a bit left out (or jealous) of the pickleball surge, it may be tennis players. Though some tennis players have either switched to pickleball or play both (and the U.S. Tennis Association has eight pickleball courts at its national campus), plenty of tennis players have disdain for pickleball. Caitlin Thompson, co-founder of the tennis lifestyle magazine Racquet, told The New York Times that pickleball is "tennis for non-athletes." Park MacDougald, a self-described "avid tennis player," wrote in the Washington Examiner of the "gangrenous spread of pickleball onto the public tennis courts of America," declaring: "That our courts should now be invaded by pickleballers, the representatives of a future in which human freedom and conscience dissolve in the steady IV drip of easy pleasure on demand, can, if left unopposed, only bode ill for our country." A pastor in Exeter, New Hampshire, dubbed a recent meeting the "Great Tennis v. Pickleball War of 2022" in the town of 16,000 people: "People are out in the hall because they can't fit in. Neighbor against neighbor. Friendships will fall."
Decades ago, local governments across the country decided to build tennis courts here and there in public parks. Tennis players were well-connected and lucky enough to enjoy this benefit in peace until recently, when pickleball players asked if they, too, might be able to use the tennis courts or have some pickleball courts built for themselves. What may have seemed like a simple request to some has turned into a loud battle over millions of taxpayer dollars between pickleball players, tennis players, and homeowners.
Retired tennis superstar Martina Navratilova weighed in on the debate, tweeting, "I say if pickleball is that popular let them build their own courts."
So they did.
The Market Serves Solutions
The courts at the Kraken Kourts & Skates facility in northeast Washington, D.C., are unscuffed. The nets are new. The cabana chairs and couches still need to be broken in. One wall lists the owners of Major League Pickleball's D.C. Pickleball Team, including actress Eva Longoria; supermodel Kate Upton; her husband, MLB pitcher Justin Verlander; retired NBA all-star Rip Hamilton; and retired Germany and Arsenal soccer player Mesut Özil. My wife and I visited in May when everything was still new. Maybe too new: The facility's alcohol license still hadn't been approved (though spirits are now flowing).
It took only four months to convert the facility from a retail clothing store to a facility with 14 pickleball courts. Then the facility had to sit empty for months, awaiting a certificate of occupancy from the D.C. government, since the building's core use was changing. Anna Valero, owner of the facility, says they "literally needed a piece of paper that said you can have people in the building in order to assemble as opposed to buying clothes." When it did open, she says it basically doubled overnight the availability of indoor pickleball courts in D.C.
Valero, who owns other entertainment venues in the area, hopes it will be a community gathering place with broad, multigenerational appeal. "It's just such an accessible sport," she says. "What has been special, even in the short time that we've been open, is that interplay of strangers organically connecting."
When we visited on their second day open, only four of the courts were being used—though my wife and I still connected with a group of strangers who were trying pickleball for the first time. It was easy to see that business would likely pick up when word spreads and the facility starts to offer leagues, clinics, and skating on the facility's roller rink. Courts are available to rent hourly as early as 6 a.m., for those who want to get a match in before work, or until 10 p.m. for the late happy hour crowd. Food trucks are available if someone is hungry. Players don't have to worry about wind, rain, winter, or summer humidity. Paddle and ball rentals are cheap. Hourly court rentals cost anywhere from $15 to $40, depending on the time and day of the week, but you can also sign up for a two-hour drop-in session with players in your skill group for just $10 per person.
No one is going to file a noise complaint, thanks to thick brick walls. No one can complain about taxpayer dollars for the facility either, because none were involved.
The Kraken facility isn't the first one in the nation or even the only one in the broader D.C. area. Pickleball Station may have been the first commercial pickleball facility when it opened outside Seattle in 2017. (It closed in March 2020, because the facility's sister company, Pickleball Central, grew so large that it needed the space to support its online pickleball store.)
In Massachusetts, Pickles opened in March 2021. The facility has 10 courts (six inside, four outside), serves beer and wine, sells paddles and clothing with its branding, and has eight coaches offering private or semi-private lessons. Outside San Diego, a company called The HUB took over a former tennis club and now offers 26 dedicated outdoor pickleball courts. There are memberships and benefits, or day passes for $20 a person.
One article in The Dink suggested ailing shopping malls and the bankruptcy of Bed Bath & Beyond Inc. might be a boon for pickleball if wise entrepreneurs convert the air-conditioned, high-ceiling spaces into facilities with indoor courts.
Outside Austin, MLP founder Kuhn converted land that was used by his bottled water company into a giant outdoor venue called Dreamland with two miniature golf courses, a disc golf course, giant works of art, a live music venue—and 16 pickleball courts. Kuhn previously told The New Yorker that "pickleball will save America….We've got to get people out there playing pickleball with people who will vote the other way, so they don't want to kill each other." In our conversation, he acknowledged that pickleball has some negative externalities that players should work on. Commercial facilities can play a part in that, he says: "The more facilities that are dedicated, especially indoors, will go a long way to making the sport a happier experience for everyone."
The private sector is mitigating pickleball problems in other ways too. Noise-dampening paddles have hit the market, some using softened foam inside the paddle or a series of drilled holes to keep the noise down. Noise-dampening wraps for fences can reduce pickleball noise by anywhere from 10 decibels to 32 decibels, companies say.
This is how it should be. Pickleball is a fun, frivolous game—just look at the name. It gets people on their feet and forms social bonds. There's a low barrier to entry, and anyone with a vague familiarity with the pickleball community knows they're more than welcoming to rookies. It needs no special government help to flourish, especially when that help is too often turning people against the sport.
Pickleball will always have haters—and if its growth continues, local governments will still face public pressure to build more courts. Some critics think the sport is a fad, but strong growth continues for the time being, even as the COVID-19 pandemic ends and other activities compete for time and attention. There's no need to force nonplayers to support it with their tax dollars, especially when entrepreneurs seem eager to provide courts. If pickleball does end up as an odd footnote in sporting history, ideally it won't be taxpayers who are on the hook for converting courts to new uses.
For those who love it, pickleball is a great example of how a weird and wonderful sport can mean so much to so many different people, from wine country to penitentiaries, when they're given the freedom to enjoy it.